In the Moments™ Console, go to the Notifications Management Page.
To create a new Moments™ Notification, click the Create Notification button:



On click, the "Create Notification" panel is displayed: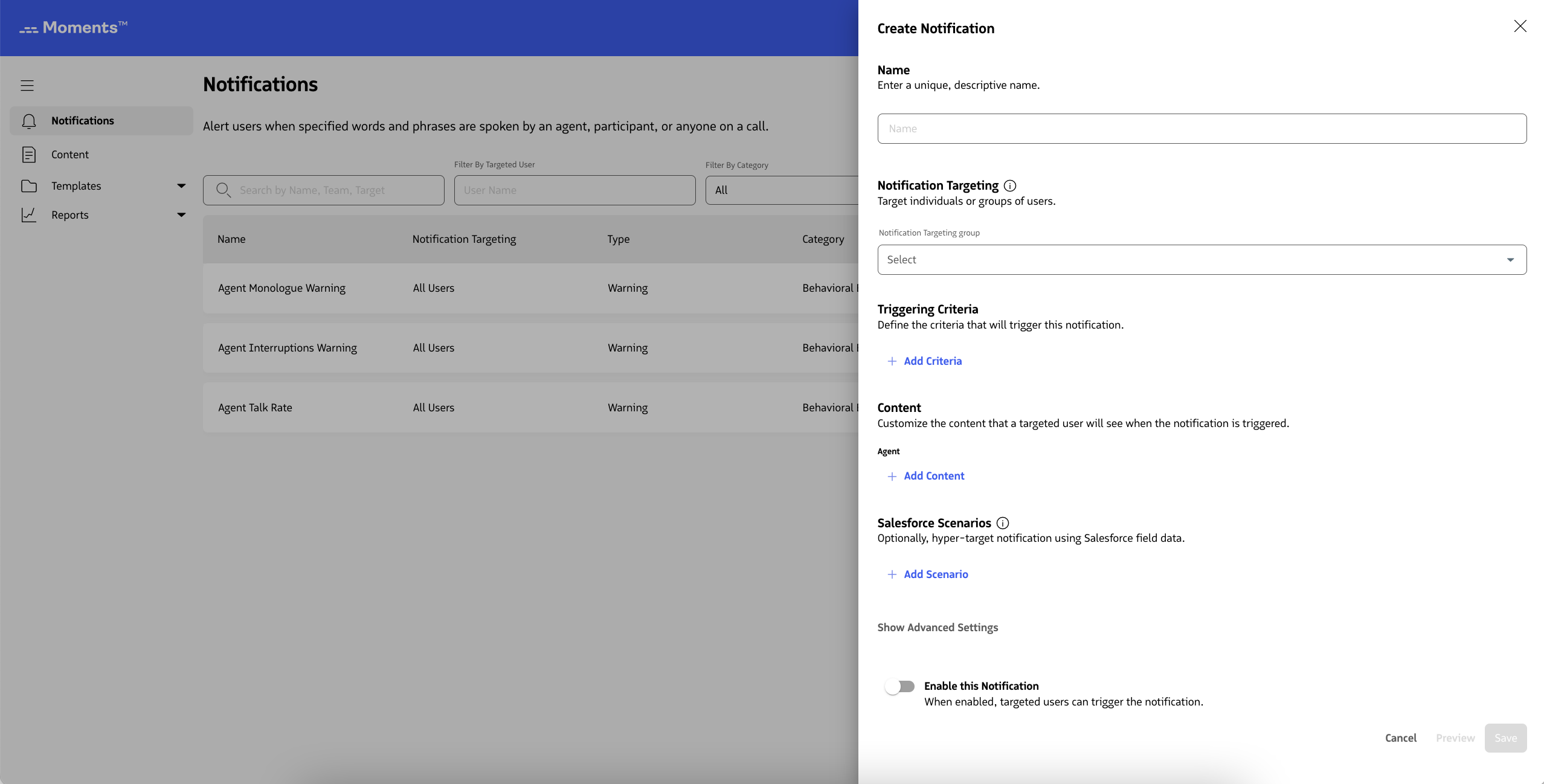 In the Create Notification panel, complete the following:
Name- Give your new Notification a descriptive name
Notification Targeting- Select a specific audience that you want to target to receive this Notification. See this article for details on how to use this setting.
Triggering Criteria- Select a triggering criteria to define how and when this Notification will trigger during a live conversation for targeted user(s).
Content- Create and customize the Content for this Notification. This defines what the specific message will be displayed to your targeted user(s) when the Notification is triggered. For additional information on creating Content, see this article.
Enable- Click the "Enable" toggle to activate this Notification. When enabled (ON), this Notification will be eligible to trigger during live conversations. If the triggering criteria are satisfied, this enabled Notification will trigger and be delivered immediately to the targeted user(s). If you are not ready to enable this Notification, you can leave it disabled (OFF) until you are ready to activate it.
Action Buttons

Cancel- this will close the panel and changes will not be saved.
Preview- this will open a modal window that displays how this Notification will look to the recipient. Visit this Previewing a Notification article for further details.
Save- this will save your changes and close the panel. Visit the Save a Notification draft article for further details on how saving drafts of your work.
Once these steps have been completed, click the "Save" button to create your Notification. The Create Notification panel will be closed and your new notification will be saved.
If you want to test your newly created Notification to ensure it triggers, follow the steps outlined here.