The Profiles Page
Understanding the Profiles page
The Profiles page contains a table where an account's Salesforce Profiles are imported. Here, Admins can see how many users are assigned to each Profile and access the management layer for each Profile.
Profiles Page Walkthrough
To access the Profiles page, log in to Admin Console and select Profiles from the sidebar: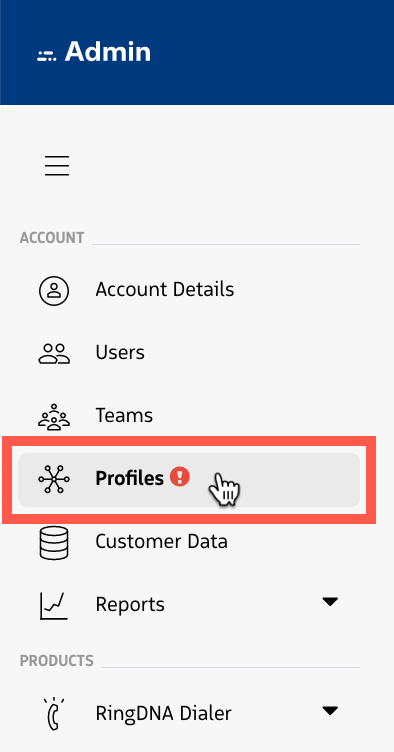 On the first visit to the Profiles page, users will be welcomed by a modal window.

Users will see a table of Profiles that have been imported into their account. This table includes the following columns:
Profile Name: The name of each SFDC Profile. Each Profile Name in the table is tagged with a red badge. A badge indicates that Admins have not yet made any customizations to the fields on the Profile. Badges, when moused-over, reveal popover text indicating that the Profile has not yet been customized.

Profile ID: The Profile ID number is assigned by Revenue.io as a unique identifier for each Profile. These identifiers can be searched for via the search bar on the page.

Number of Users: Contains numbers that denote the total number of users currently assigned to the Profile. This number links to the profile Users page, where each username is displayed.

Edit: Edit icons are present in this column. When the icon is clicked, users will be navigated to the corresponding Manage Profiles page.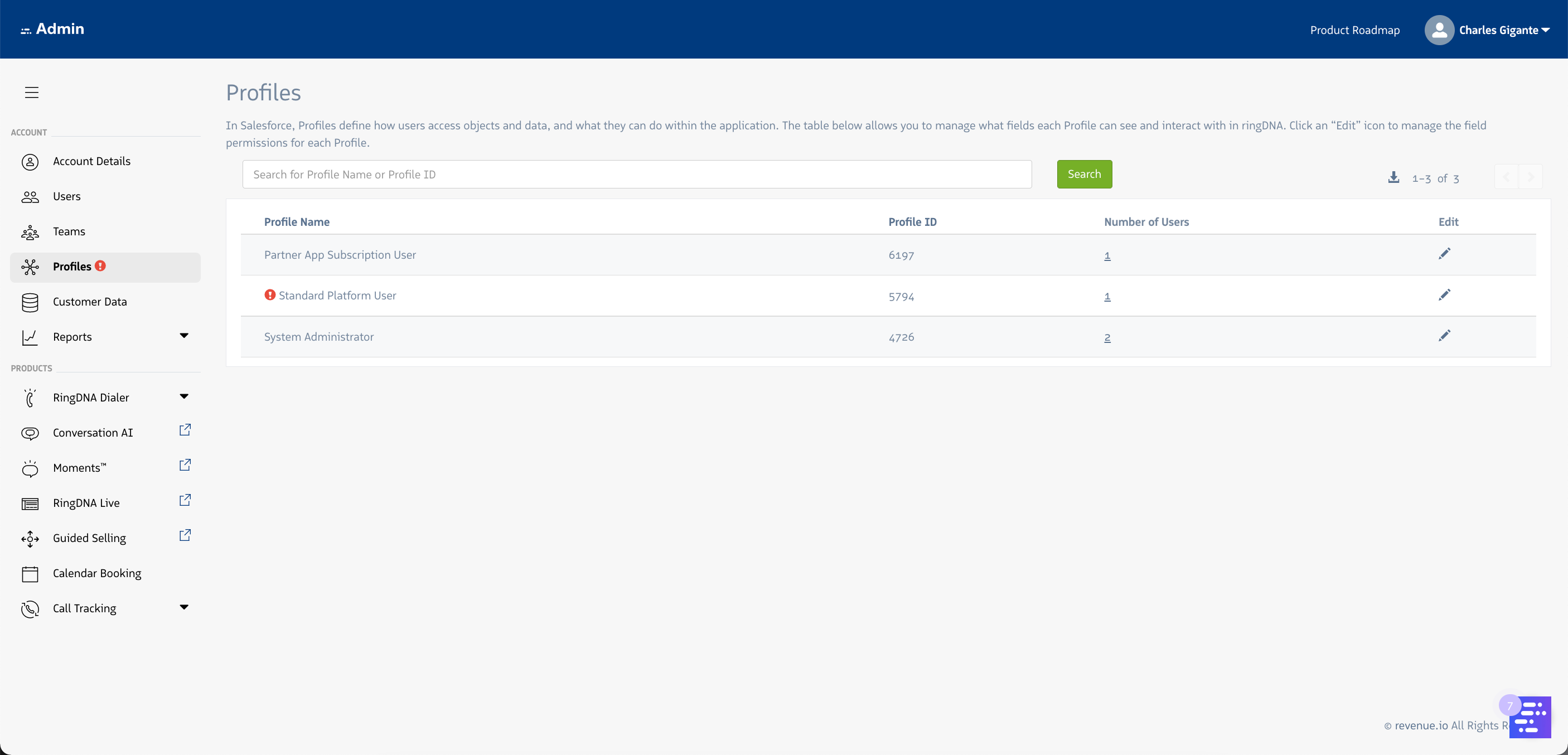 Manage Profile Page
Understanding the Manage Profile page
When clicking the Edit icon on the Profiles page, a user is navigated to the corresponding Manage Profile page.

Manage Profile pages allow Admins to customize the fields that users of the profile can see in the RingDNA Dialer. It also allows users to add additional fields to the Profile via the Add Additional Fields modal.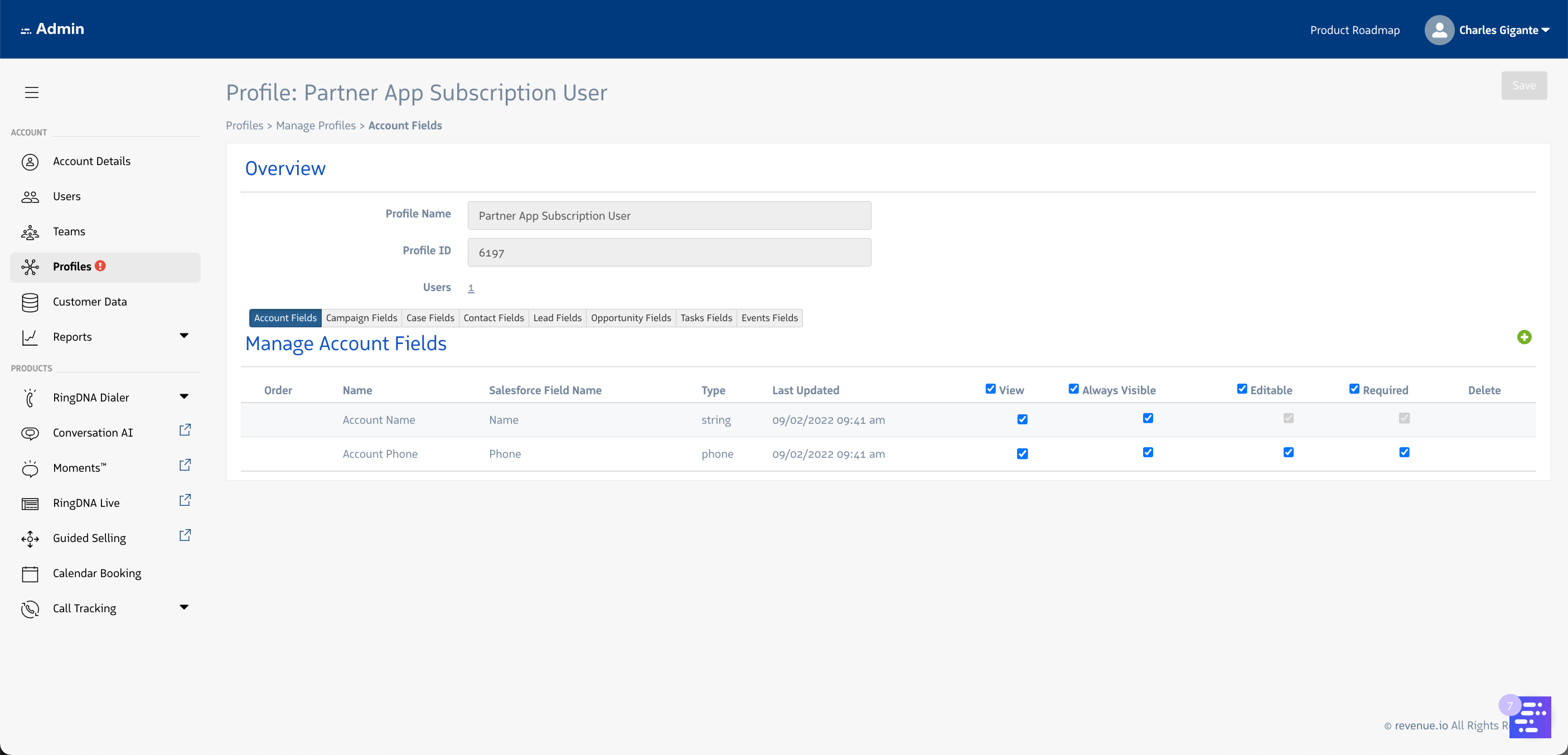 Manage Profile Page Walkthrough
The Profile Name and Profile ID are displayed in the Overview section

The Users value denotes the total number of Revenue.io users currently assigned to the Profile.

Field tabs allow users to browse to each different set of field types to add and edit the visibility of additional fields for the Profile users

Note: the Account Fields tab is the default tab users see on navigation to any Manage Profile page

The + icon initiates the Add Additional Fields modal

The Order column allows the field order to be adjusted in the RingDNA Dialer. (In this example, the two fields present in the Account Fields tab are both default fields and therefore no ordering functionality is present in this column. See the second screenshot below for an example of the ordering buttons.)

The grid allows users to adjust specific RingDNA Dialer field visibility for users via an array of checkboxes.