Contents:
What is Enhanced Analytics?
Enhanced Analytics is a data pipeline that takes daily snapshots of salesforce data related to opportunities, accounts, events, tasks, and fiscal periods in order to combine with Revenue.io generated sales data to provide new in-depth insights previously unavailable in Salesforce.
Enhanced Analytics is needed for Revenue Intelligence features:
Leaderboard of agent ranking within a specified time period based on the dollar amount of won revenue and the number of opportunities won. This dashboard compares various Sales activity metrics, coaching metrics, and conversational etiquette metrics of all reps, making it easy to identify patterns in differences between top and bottom-performing reps and coach toward those key differences.

By analyzing the details of opportunities and conversations related to opportunities captured within the Revenue.io platform, Revenue.io applies AI models that predict if an opportunity will close within the next 30 days. This enables Sales leaders, coaches, and supervisors to identify deals in progress that may be at risk so that they can provide coaching to reps specific to opportunities in progress.
How to Enable Enhanced Analytics:
You can either let your assigned Customer Success Manager know that this is something you are interested or email support@revenue.io asking to have this enabled.
Support will enable the feature after approval, but then a Conversation AI admin will need to enable it for each user who need access to the Revenue Intelligence reports. This is completed by navigating to the Conversation AI application → Click Account Settings dropdown in the left menu → Select User Management → for each user that you are enabling click the 3 vertical dot menu to edit their profile → Select the View Revenue Intelligence option → Save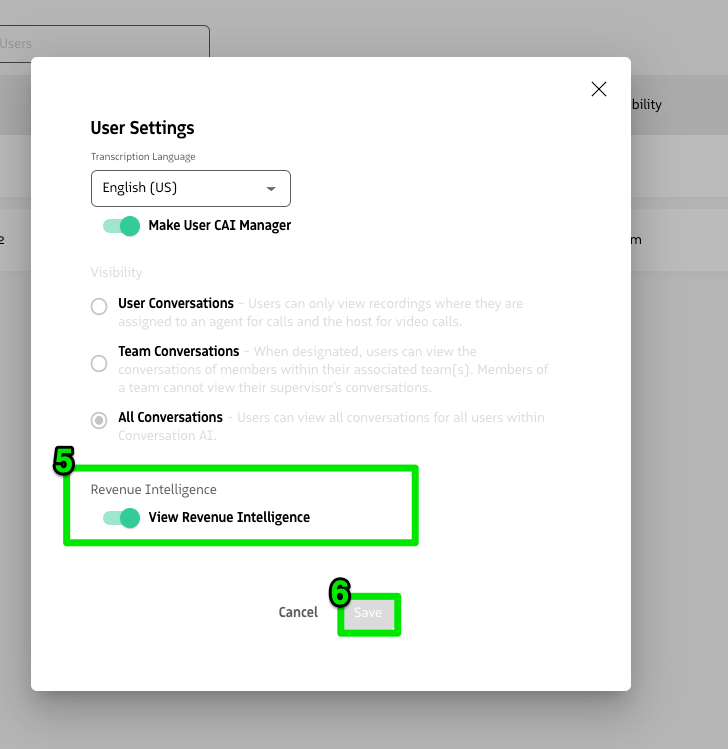 Once enabled the Revenue Intelligence reports will be active in the left menu:

Check out the Dynamic Leaderboards & Opportunities articles for more information on these reports.