What Is the Revenue.io Resource Center?
The Revenue Resource Center is a widget in Admin Console that provides a self-serve, one-stop-shop for customers who want to:
Stay up to date with Revenue.io releases via immediate access to the product roadmap and our new feature announcements.
View our customer success stories to see how Revenue.io customers are using the platform to level up their team's productivity and decision-making.
Transform themselves into power users by viewing the support articles in ourSupport Center
Learn about Sales methodology from the world's top sales and revenue operations team in the revenue.io Sales Academy.
How Do I Access the Revenue.io Resource Center?
The Resource Center can be accessed by any user and viewed on all pages of Revenue.io's Admin Console.
To access the Resource Center, log in to Admin Console, then select the Resource Center widget in the bottom right corner to launch the menu.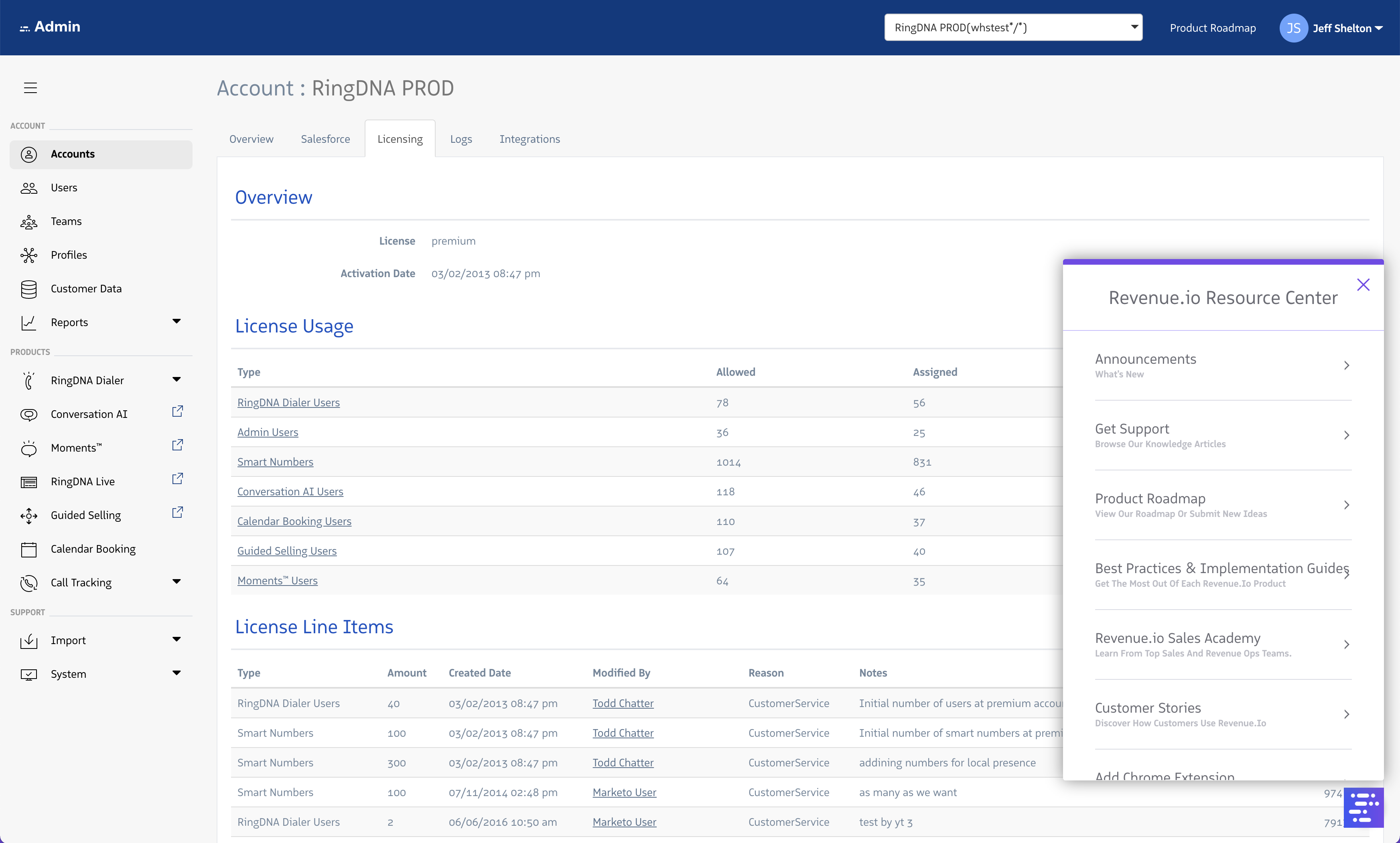 The Resource Center's menu consists of 6 options:
Announcements - Shows new feature announcements and product updates.
Get Support - Links to the Revenue.io Support Center
Product Roadmap - Displays Revenue.io Product Portal where users can provide feedback on upcoming features, vote on features that are under consideration, and submit requests for new features.
Revenue.io Sales Academy - Links toRevenue.io Sales Academy, which hosts links to Sales enablement podcasts, eBooks, and upcoming Revenue.io webinars.
Customer Stories - Displaystestimonies and stories from customers who have used Revenue.io to transform their productivity, sales coaching, and revenue intake.
RingDNA Chrome Extension - Links to theinstall page of the RingDNA Dialer Chrome Extension, which allows users to access RingDNA anywhere in Google Chrome.
When you're done using the Resource Center menu, click the X in the top right corner to hide it.