The Insights section of ConversationAI allows Sales Supervisors, Coaches, Managers, and Leaders to understand rep behavior (conversation etiquette), call activity, keyword trends, and coaching activity within ConversationAI.

It is especially helpful to understand how applying filters allows CAI Managers to look at trends over time as well as rep-by-rep metric comparisons using the Team level filter.
There are four primary Conversation AI Insights Sections
Etiquette
Conversation Topics
Coaching
Activity metrics
When updating filter values for any Insight report, click the Refresh button after updating your filter selections to refresh the data displayed to match all of your set filter options.
Most reports can be downloaded. Hover over the results, then select the cloud icon in the top right corner of the report to download them. Results can be downloaded as a .csv, .xlsx, or .json file.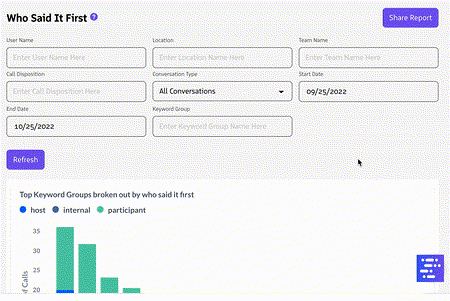 Etiquette is a collection of dashboards focused on the conversational traits across your organization, individual teams, and Agents. Users can dig into talk ratios, interruption, silence, and interactions. Conversation Etiquette dashboards are segmented into Audio Conversations and Video Conversations.
There are over eight detailed etiquette reports, but a few examples of questions these reports answer are:
Average Phone and Video Talk Percentage:

are reps talking too much?

Agent Phone and Video Monologues:

are reps going on long monologues?

Customer Phone and Video Monologues:

are customers going on long monologues?

Average Phone and Video Sentiment: w

hat is the sentiment of my reps conversations?
Conversation Topics reports uncover the most frequently mentioned Keyword Groups and keywords trends over time, who raises each topic first, and where keywords are mentioned within conversations.
Conversation Topics reports answer questions like:
Over Time: which keywords are trending up/down than before?
Who said it first: Who brings up keywords within a conversation first (Rep or prospect?)
Occurrence in Conversation: When within a conversation do keywords come up?
Coaching reports break down who is giving and receiving the most coaching within ConversationAI.
This section answers questions like:
Aggregate:

how consistently are we coaching?
who is being coached
how are we coaching?

Detailed:

which reps are receiving the most coaching, from who, and in what form?
which supervisors are providing the most coaching, to who, and in what form?
what does the written coaching/annotations being provided say?
which reps are coaching other reps?
which reps are doing self-review?
Activity Metrics reports focus on the volume of activity, as well as insights into the nature of that Activity. This includes call volume, a ratio of inbound to outbound calls, and the distribution of dispositions inputted by your teams. Examples of questions these reports answer are:
Calling Productivity: how many total calls have my teams or reps made in a given time period?
Time of Day: what time of day leads to the best connection rates?
Dispositions: how often are each of our call dispositions inputted?