Within the Revenue Application, all users can play back recorded conversations via a basic call recording experience. This experience provides a modern audio player to users along with relevant and contextual information about the conversation that they are reviewing.
It's important to note that there is a treasure trove of information in your recordings that gives you insight into what is working and what is not in your customer Journey. While all users can play back recordings via this basic experience there often time can be more information available to you to be able to drive decisions.
What constitutes a Basic Recording?
A basic recording is any conversation accessible within the Revenue application that falls into the following category:
Is a conversation that is not analyzed by Conversation AI. This can be due to the following scenarios:

A conversation was held by a user who does not have a Conversation AI License
A conversation is associated with a voicemail
A conversation was held by a user with a Conversation AI License but the conversation did not meet the minimum duration threshold set for their account to be analyzed.

Is a conversation that has been analyzed by Conversation AI but accessed by a user who does not have a Conversation AI license.
Note that basic call recordings will not be visible within the list of conversations in Conversation AI for users who have access and can be accessed instead via salesforce records or the call recording report.
What can I do with a Basic Recording?
Basic Call recordings provide users with the following information and capabilities
Conversation Playback
Users are presented with a modern audio playback experience where they can view and reference the agent and caller involved in the conversation, can play back the audio, and adjust the speed and volume of the audio being played back.
Related Salesforce Information
Caller details
If a conversation is associated with a lead or contact in Salesforce, a user will be able to see relevant Salesforce information associated with the record. The fields listed are based on the configuration of lead or contact fields by user profile within the revenue admin console.
Conversation Notes
In the notes section, users can view the associated description for the activity associated with the conversation. Users who own the conversation can edit the notes directly from the page to update Salesforce in real-time whereas non-conversation owners can view notes as read-only text.
Supervisor Notes
The Supervisor Notes field presents insight to reps as to where they can improve. A rep's supervisor can access a recording and add/edit a supervisor note associated with the conversation. Supervisor notes are logged directly to Salesforce for reporting and insights directly within Salesforce.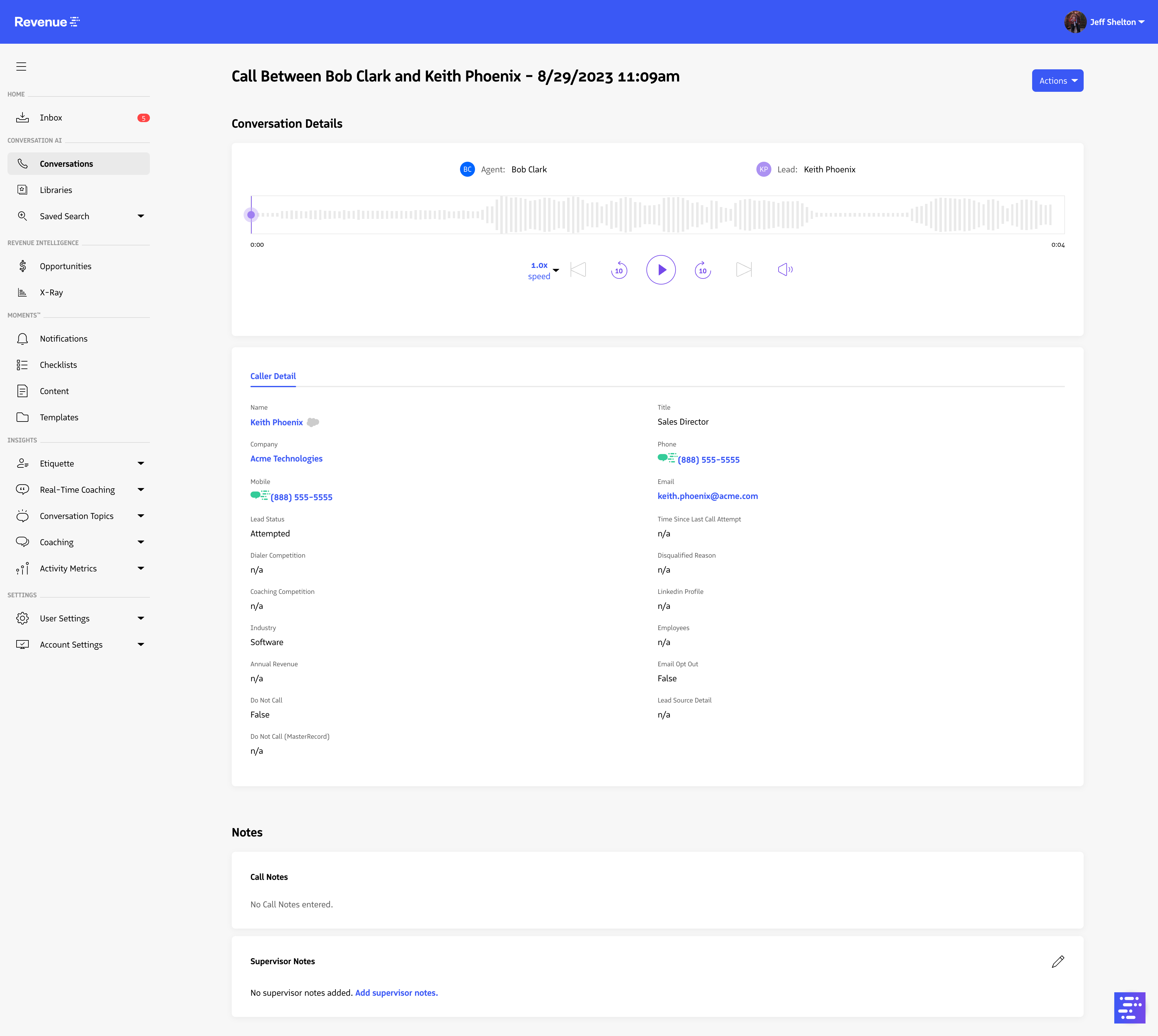 In addition to playing back a recording via the basic playback experience, users can take actions associated with conversations that they can access.
Revenue users can download call recordings as a quick means to share conversations with other members of their team.
If a user has an administration license can delete recordings to manually get rid of the individual call recording.