The Value of a Conversation
The playback of conversations in the Revenue.io platform is critical to gaining first-hand insight into what is driving your business. These conversations provide managers insight into what is going on across their teams and what is happening throughout the customer journey. It is our goal to make sure that managers and sellers alike have as much context as possible when playing back these conversations in the highest quality experience.
Types of Revenue Conversations
Call recordings are generated via Call Recording Compliance settings within our administrative console. In addition, users who are leveraging Conversation AI for deep insights into their video conversations can connect a Zoom or a Microsoft Teams account to make their team's recordings available to draw insights and trends from.
Recorded Conversations can take the following shape within the Revenue application:
Basic Call Recordings - This is the most basic of call recording experiences. Conversations that can be played back in this experience are:

Conversations that have not been processed by Conversation AI
Conversations accessed by users who do not have a Conversation AI License

Summary Only Conversations - Audio conversations that are powered by Moments™ and summarized using Generative AI without an associated call recording. (Note this is currently an early access feature)
Agent Only Conversations - Conversations where only the agent was recorded based on a call being impacted by a two-party content state.
Dual Channel Audio Conversations - Traditional audio conversations where both the agent and the caller are recorded.
Video Conversations - Recorded video meetings over Zoom or Microsoft Teams with one to many participants.
How to Access Conversations in the Revenue Platform
Recordings are generated via Call Recording Compliance settings within our administrative console or explicit recording controls within Zoom and Microsoft Teams. There are multiple ways of accessing a conversation recording, all of which are outlined below:
Accessing a Conversation from Salesforce
One of the core values of Revenue is the ease of use to access critical information directly within Salesforce. Within our Revenue Intelligence managed package, we provide quick access links to conversation records.
Customers on v1.31 of the Revenue Intelligence Package or Earlier
Customers on early versions of our Revenue Intelligence Package can add Recording URL Fields to their activity layout to allow quick and easy access to recordings. Users can select recordings from these individual activity records or any list view or report that the field is added to.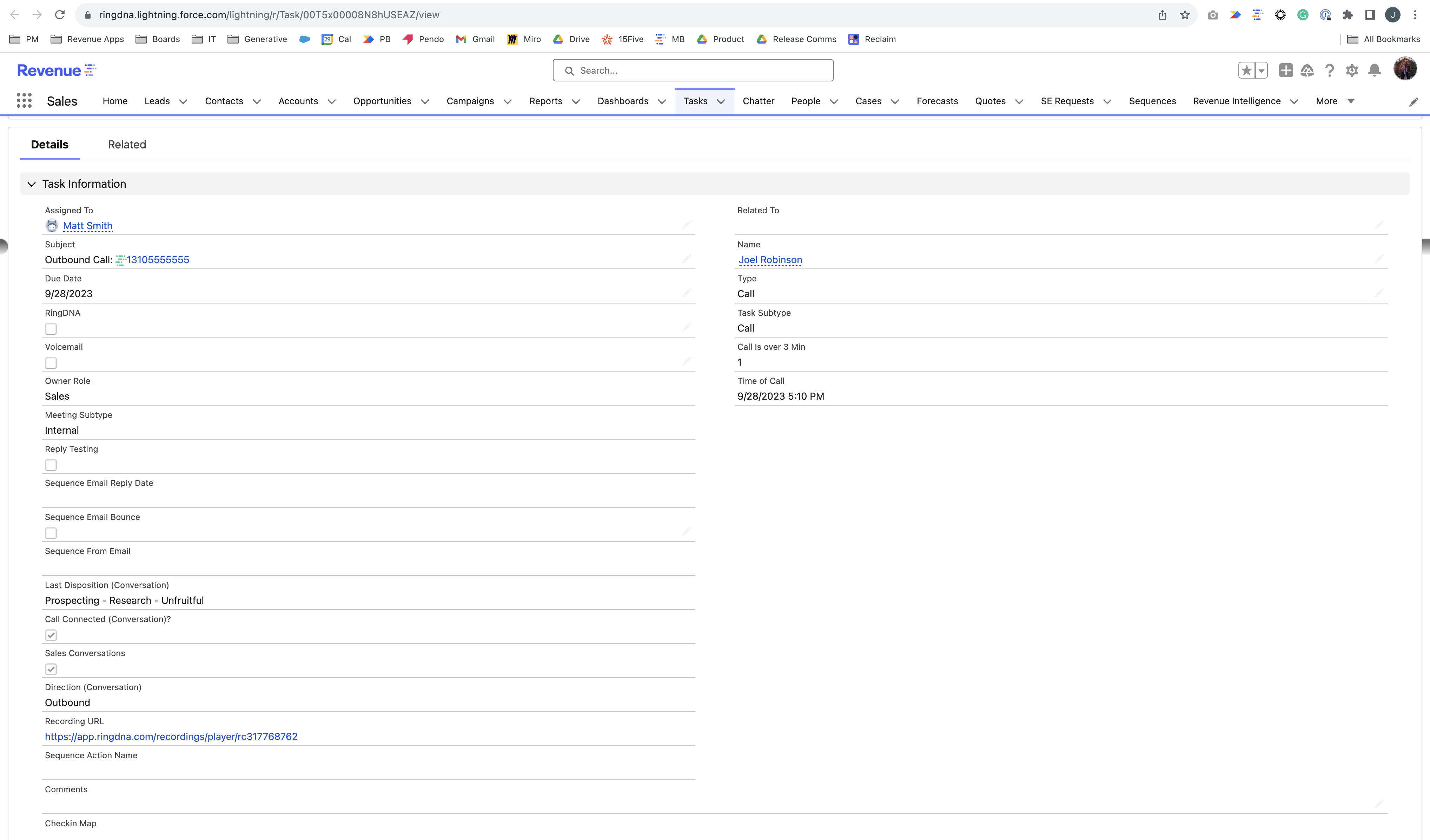 Customers on v1.60 of the Revenue Intelligence Package or Later
On versions of the Revenue Intelligence Package 1.6+, we have introduced a new custom object called Conversations. This object expands the information logged into Salesforce and reduces the number of fields needed to track critical information on activities to one single lookup field.
Within the conversation object, users can select the recording link associated with a conversation if one exists. On selection, they will be navigated to the corresponding conversation record in the Revenue App and allowed playback based on their recording permissions.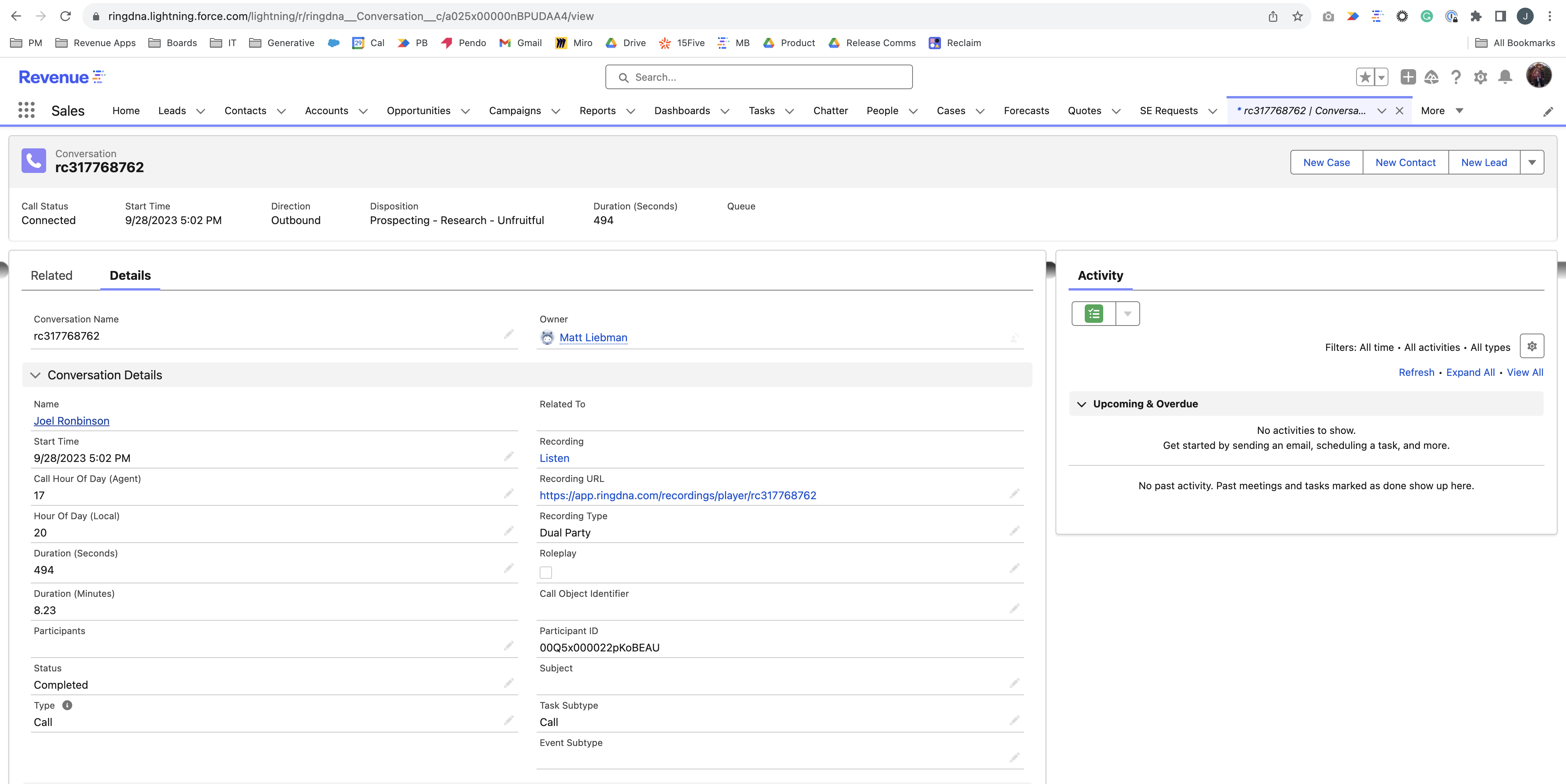 Accessing a Conversation from a Call Recording Report
Within the Revenue admin console, users who have an administrative license can access a report of all call recordings that were created via the Revenue Communication Hub (Dialer). Within this list, admins can easily select a call recording to open it within the Revenue application.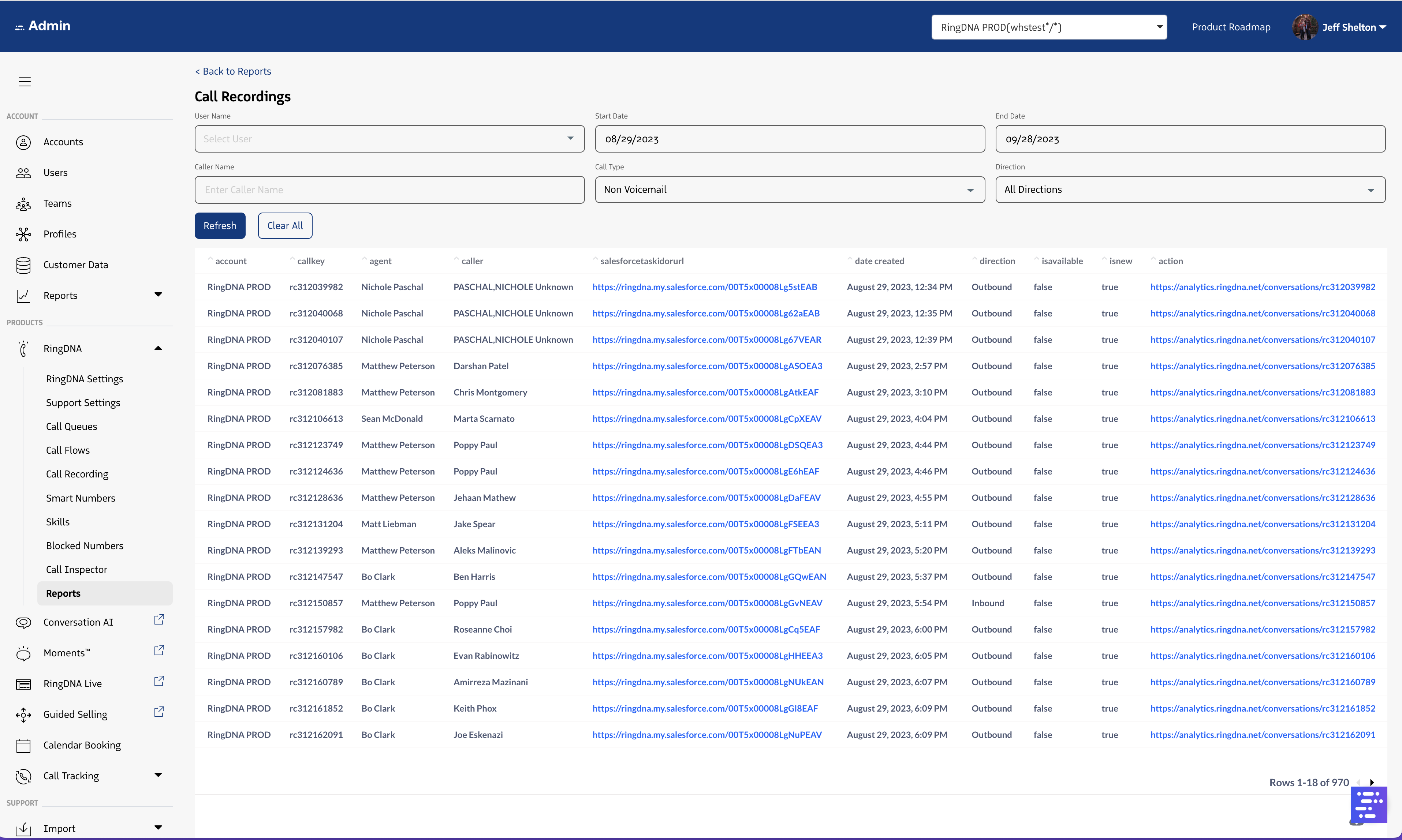 Accessing a Conversation within Conversation AI
Playing Back Recordings
No matter where you access a conversation from, all conversations can be played back within the Revenue application. Based on a user's license or the length of a conversation, the playback experience may vary. Below is an overview of what information is provided to users upon review of each type of conversation within the Revenue application.
Basic
Summary Only
Audio (Agent)
Audio (Dual)

Video

Conversation Actions

Share Conversation

✅

✅

✅

✅

Add Reviewers

✅

✅

✅

✅

Add Conversation to Library

✅

✅

✅

✅

Reprocess

✅

✅

✅

Download Conversation

✅

✅

✅

Delete Conversation

✅

✅

✅

✅

✅

Playback Controls

Audio Playback

✅

✅

✅

✅

Video Playback

✅

Transcript and Related Context

Transcripts

✅

✅

✅

Keywords

✅

✅

✅

✅

Annotations

✅

✅

✅

Questions

✅

✅

✅

✅

Salesforce Details

Activity / Task

✅

✅

✅

✅

✅

Participant Leads / Contacts

✅

✅

✅

✅

✅

Notes

✅

✅

✅

✅

Supervisor Notes

✅

✅

✅

✅

Metrics and Insights

Talk Ratio

✅

✅

✅

✅

Active Listening

✅

✅

✅

Interruptions

✅

✅

✅

Average Talk Streak

✅

✅

✅

Longest Talk Streak

✅

✅

✅

✅

Talk Rates

✅

✅

✅

Silence

✅

✅

✅

Vocabulary

✅

✅

✅

Sentiment

✅

✅

✅

✅