The
Emails
report provides consistent and valuable reporting into the volume of emails sent and opened and engagement metrics such as categorized replies, thus offering better insights to make data-driven decisions around your email strategy.
To access the Emails report, log into the Admin Console, expand the "Reports" link in the left hand navigation and select "Emails".
The report is accessible by:
Administrators

Team Supervisors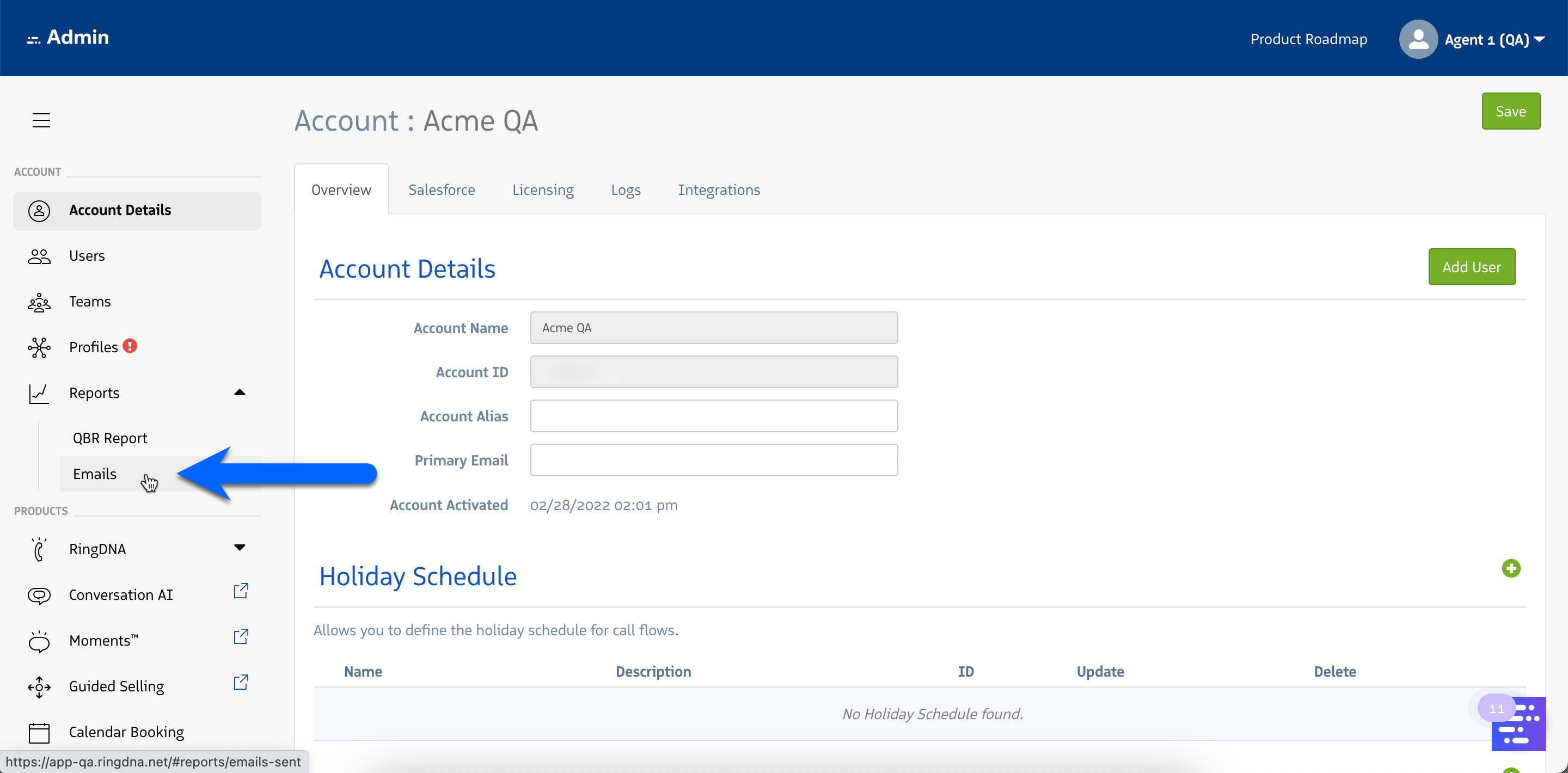 Report / Dashboard Details
Filters
Revenue.io Admins can filter their results by:
User Name
Team Name
Start Date
End Date
Once filters have been applied, click the Refresh button.
Report Details
Top-level Metrics
The report displays the following metrics:
Total Numbers of Emails Sent
Number of Emails Opened
Percent of Opened Emails
Number of Emails Replied
Reply Rate - Percentage of deliverable emails
% of Undeliverable Emails Percentage of undeliverable emails, such as bounced or out of office replies
Opened Emails metrics
Gives insight into the number of emails viewed by recipients tracked over time and as a list. This is done by including a tracking pixel in the email which reports back to our server when that image is accessed.
Email Engagement Over Time - Examines the percentage of emails opened vs. the volume of emails sent
Opened Email Lists - List of emails sent that were opened
Note that some email security options may cause emails to report back as opened and artificially inflate this metric. This is because they pre-fetch the email and it's images (including tracking pixels). This metric is still helpful when used in conjunction with the reply rate, but for this reason, the reply rate is a more accurate indicator of successful engagement.
Replied Emails metrics
Email Reply Rate Over Time - Examines the volume of emails sent vs. the number of them that received a reply
Reply Status Summary - Breakdown of different reply types received
Replied Email Status Over Time - Over time view of different reply types received
Replied Email Lists - Summary list of actual replied emails received
Closely monitor your reply rates as you iterate on emails and Sequence strategy to make sure they are effective. If you are noticing that your email reply rate is trending down, ensure you are following content best practices to reduce the likelihood of being flagged as spam and consider the quality of leads you are engaging with.