If you are experiencing intermittent connectivity issues or dropped calls, you may be asked to run a network test to help determine the root cause.
A fast internet connection doesn't always mean a quality connection. Environmental factors like proximity to the wi-fi router or congestion from other devices on the network can also affect the quality of a connection and lead to lower bandwidth, packet loss, and jitter, which can negatively affect your experience while on a call.
Running Network Tests
If you are running network tests to understand the quality and throughput of your connection, proceed with the instructions below.
If you are encountering intermittent connectivity, It's important to run these tests while an issue is being experienced for the results and logs to be accurate.
Navigate to the WebRTC Diagnostics Test Page

Complete the reCAPTCHA to verify you are not a bot
Allow access to the microphone if you are prompted

During the test you will hear a message several times say "Record a message in 3, 2, 1". Recite a quote or say a few words to capture the quality of your audio. This audio will be played back to you to confirm your voice is being picked up correctly.
You will be prompted to allow camera access. RingDNA does not utilize video and this access can be blocked if you prefer to skip these tests.
As the tests complete, you will see a Log Output along the right of your screen.
Understanding the Log Output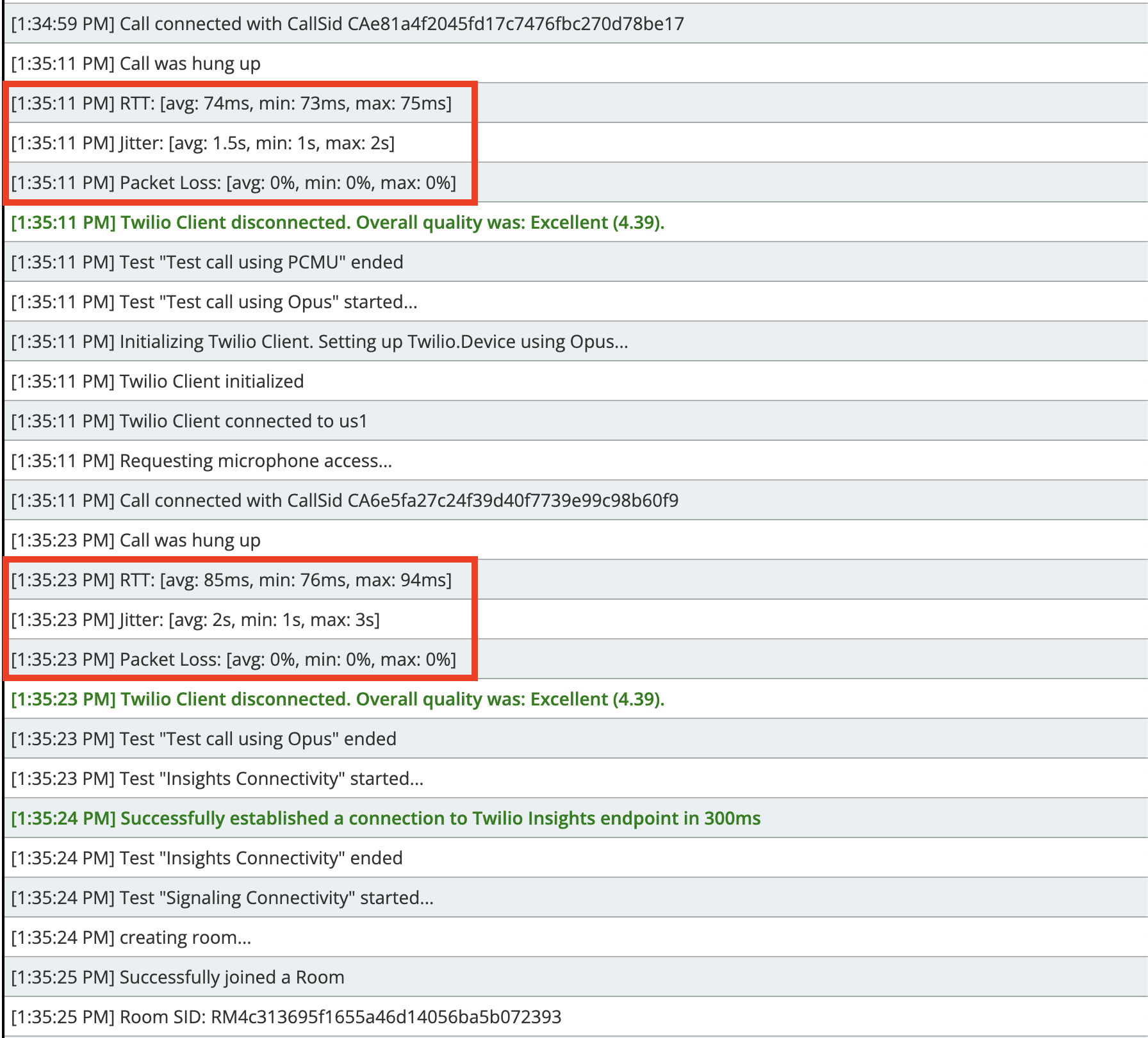 UDP, TCP, or TLS Connection Status
In order for a call to be established, the network must allow both UDP and TCP connections. If the network is blocking either, you may encounter problems with dropped calls or not receiving/transmitting audio.
Bandwidth (Uplink/Downlink)

Opus: 40kbps / 40kbps

PCMU: 100kbps / 100kbps

RTT (Roundtrip Time)

Recommended < 200ms to deliver reasonable calling experience.

Jitter

Recommended < 30ms. Higher will impact call quality and lead to packet loss.

Packet Loss

Recommended < 3%. Higher values will result in call quality issues and eventually dropped calls.
Getting Help
If you suspect that your calls are being impacted by your network quality, we recommend taking screenshots of the network test results and reaching out to your Network or IT Administrator.
However if you are still encountering call quality issues and your network test results show healthy results, please contact our support team and paste your network test logs into the body of your request.